Our Team
Our childcare kaiako (teachers) at Tiny Legends in Palmerston North are wonderful and amazing people, who have been selected based on their experience within the Early Childhood Education field, their professional knowledge of teaching and nurturing young children and their philosophy of education and knowledge of child development.
We value professional development, and encourage our childcare team to participate in a variety of courses, in order to grow and keep up to date with new developments in the educational field.
At Tiny Legends Early Learning Centre in Kelvin Grove, happy and content staff are as important as happy children. We work at keeping our daycare staff for long periods to ensure stability for the children and a consistent learning environment.
Curriculum
Tiny Legends Early Learning Centre in Palmerston North is committed to follow the aspirations of the New Zealand National ECE Curiculum, Te Whāriki,
"For children to grow up as competent and confident learners and communicators, healthy in mind, body and spirit, secure in their sense of belonging and in the knowledge that they make a valued contribution to society".
Te Whāriki envisages kaiako in early learning settings working in partnership with parents, whānau and community to realise this vision. The expectation is that, in their early years, children will experience a curriculum that empowers them as lifelong learners.
Te Whāriki supports this work by providing a framework of principles and strands. The principles are the foundations of curriculum decision making and a guide for every aspect of pedagogy and practice. The strands are 5 areas of learning and development, where the focus is on supporting children to develop the capabilities they need as confident and competent learners. Each setting takes these principles and strands and, in partnership with parents and whānau, uses them to 'weave' a curriculum whāriki that is specifically designed for their children.
Philosophy
At Tiny Legends childcare in Kelvin Grove, our teachers are committed to providing a rich curriculum inside of an engaging physical environment that provides children with opportunities to learn physically, socially and emotionally.
Through establishing strong relationships with important adults in a child's life we can create a holistic approach to their individual learning journey that will eventually carry them through life.
Connection, communication and contribution are our priorities. We work proactively alongside the children, whānau and support networks inside our community. We do this by recognising and responding to the needs of each child's whānau (Family Health), Tinana (Physical Health), Hinengaro (Meltal Health) and Wairua (Spiritual Health), only then can we create a path to success and achievement.
We are committed to consistently evolving our practice and create opportunities to share our knowledge with others.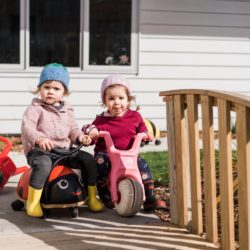 Infants
0 – 2 years
Our Under 2's environment is licensed for up to 13 babies and toddlers. With small numbers and high teacher/child ratios, we are able to provide a warm, positive and nurturing environment, with time to take in and capture those special moments.
Our large outdoor area offers experiences within the natural environment and provides the children with a wide open space to explore in their own time. Our teachers plan the daycare programme from the children's interest and we foster and extend home learning opportunities through these shared experiences. Play is valued and seen as an important opportunity for learning.
Children's learning experiences at our daycare centre in Palmerston North are recorded in their own Portfolio, as well as on Storypark, accompanied with photos and creative examples of their work. Teachers are guided by children's rhythms, meeting each child's needs through calm, gentle and respectful routines with the child's well-being always at the heart.
Te ao Maori values and concepts such as the mana and wairua of each child are held in high regard, with teachers developing the children's sense of self and emotional well-being throughout the programme.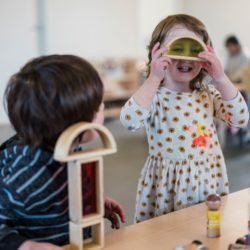 Young Children
2 – 5 years
Our Over 2's outdoor environment is large and open, including a cycle track, whare, sandpit, vegetable garden, fruit trees and a worm farm, all designed to be explored with the focus of interacting with the natural environment.
Our daycare teachers have a strong focus on children developing lifelong learning skills through interactions with the environment, each other and the wider world. Children are encouraged to develop self-help skills, confidence and self esteem through everyday activities and interactions. Teachers support children to follow and extend on their interests.
Our indoor environment provides opportunities for children to develop creatively through exploring areas of art, construction, music and movement. As well as the structure provided in the programme, children also have opportunities for free play. Literacy and numeracy is threaded throughout the programme and is promoted by teachers and embraced when children show an interest in these areas. We have a strong focus on relationships and social competence.
Te Reo Maori is incorporated into our daily routines, through the inclusion of Maori concepts, knowledge, customs and beliefs. The children's learning journey is recorded in their own personal Portfolio book, as well as on Storypark, including lots of photographs that will last a lifetime.
Sustainability
Tiny Legends childcare centre in Palmerston North introduces sustainable habits and practices to our children by encouraging them to reduce, reuse and recycle.  We also keep worm farms and grow our own veges in our very own childcare centre garden.
Using Storypark significantly reduces the amount of paper used for forms and newsletters.
We use local suppliers and partners where possible, supporting the sustainability of businesses in our community.
We believe every little bit helps to ensure sustainability for our precious future generations!
Connecting Children with Nature
The natural world is a giant, open-ended learning laboratory. Children are innate scientists and love to experience the sights, scents, sounds, and textures of the outdoor environment. At Tiny Legends, we are always looking for learning opportunities that embrace nature.
Through free play, children spontaneously connect with nature right here in our own playground and outdoor environment. For example, children are often busy building masterpieces with dirt or sand, searching for twigs and sticks, watching worms wriggle through the soil, gazing at clouds, jumping in puddles, or listening to the birds sing.
Our toddlers and pre-schoolers thrive on using their imagination as they become 'explorers' in their own environment, doing this means they are encouraged to investigate and learn names of animals, insects, plants, and their purposes on our earth. We love seeing the children learn to care for their centre environment, their community, and the great big world we live in!
Contact us or book a tour of Tiny Legends Early Learning Centre. We'd love to hear from you.
Here at Tiny Legends in Kelvin Grove, we understand that your child's education and care is a priority and that choosing the right childcare centre can be a big decision. We would be delighted to share in your child's learning journey. Feel welcome to contact us in whichever way is most convenient for you, or visit our Palmerston North childcare centre and meet our Teaching Team!